Today I had to run out to Elkhart to run an errand.  That gave me the opportunity to meet up for lunch with my friend Chris who works out there, and try a new restaurant that opened last fall.  I had read about Hotdogeddy's on the Flavor 574 website, and although I am not generally a huge fan of hot dogs, my friend is.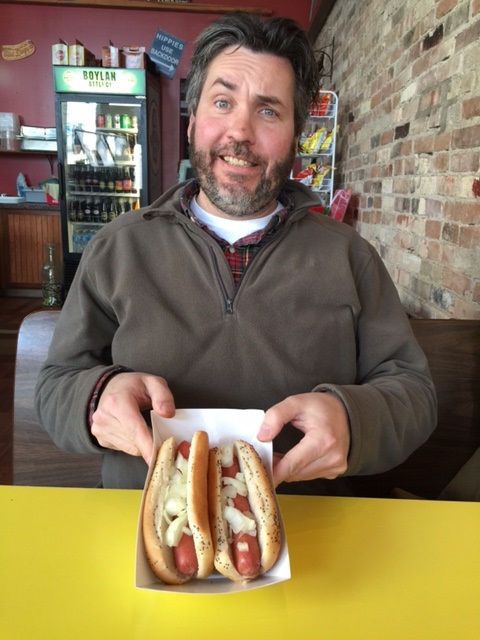 I went with 2 plain hot dogs with raw onions, while my friend was a little more adventurous.  He had a Chicago Dog (mustard, tomato, pickle, sport peppers & celery salt) and a Downtown (bacon dog with pico de gallo, sriracha aioli, southwest mustard & jalapenos).  Meal was great, and if I ever get back to Elkhart, I'll eat there again.
But the best part was when the owner Ed Hayden came out and started talking with us about his business, about hot dogs, how he comes up with ideas for the menu, etc.  And it got me thinking about some lessons that I can take away about writing this blog.
1.  Be passionate about what you are writing about – It's obvious that Ed is passionate about his hot dog business.  He operated a hot dog cart for about 5 years before opening up the restaurant.  He takes great care in coming up with ideas for his menu, and keeps a notebook full of ideas.  He has a regular menu of about 5 or 6 dogs, and adds a few specials.
2.  Go for quality – my friend is a bit of a hot dog connoisseur, and noted how it was one of the best Chicago Dogs that he has had in a long time.  Many other places will cut corners, using cheap hot dogs, relish from a can, pickles without a good snap or the wrong peppers.  Hotdogeddy's takes the time to make it right, and the product shows it.
3. Have a story to tell – one of the things I found most interesting was how he came up with ideas for the menu, and the people that some of the items are named after, like the Monica and the Sami.  The stories were so interesting, I might even have to try those next time.
So let me be frank, writing for your blog doesn't have to be hard, and if you use the same process as Ed Hayden uses for his Hot Dog business, you'll be writing red-hot blogs in no time, and everyone will be a wiener…. err, winner.
If you want to try out Hotdogeddy's, it's located at 700 South Main Street in Elkhart, Indiana.  (Facebook, Twitter).
If you want to learn more about Hot Dog Etiquette, check out this guide from the National Hot Dog and Sausage Council.
---