---
What The Stellantis & Amazon Partnership Means For Digital Marketing?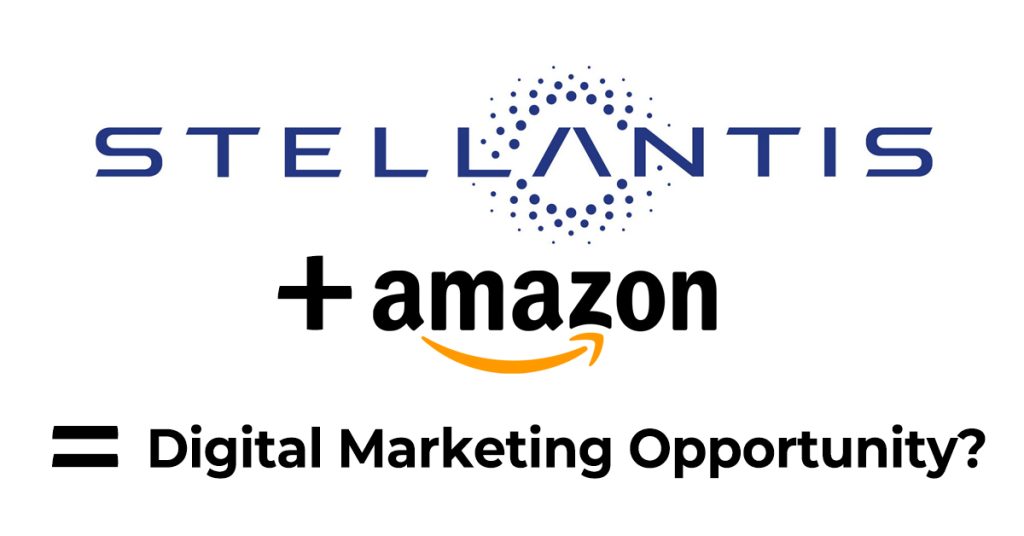 By: Jim Ragosta, Jr., Digital Media Specialist
I recently watched a live press conference of Stellantis featuring CEO Carlos Tavares discussing the transition of Stellantis to a sustainable mobility tech company. Great things are happening with the company, the presentation left me with two takeaways of how this could impact digital marketing efforts.
Stellantis announced a partnership with Amazon to work on improving the consumer experience of vehicles becoming "smarter." In short, vehicles will have Amazon software integrations, meaning you'll be able to have a "personalized digital experience," enabling you to watch Fire TV, talk to Alexa, download apps, and more. For more on the actual partnership, check out the news story HERE.
Takeaway 1: SEO & Voice Search
This partnership will increase the necessity for brands to be on their best SEO game when it comes to Voice Search. This will be imperative. We continue to not only become smarter in our homes, mobile devices, but now our vehicles. To Stellantis, Alexa is going to be your best friend and improve your "consumer experience" as an owner of one of their auto brands. If you are a local business that is service-based like a restaurant, make sure you're optimized for voice search! (Hint hint, Force 5 can help with this)
Takeaway 2: OTT/CTV Capabilities
The opportunity for advertising through smart vehicle technology may be possible. If you're able to download apps per usual, many "free" apps allow advertising for software support. This means that DSP's should be able to reach a vehicle for advertising opportunities. To add to this, you'll have Fire TV capabilities. So, the possibility of OTT/CTV advertising sounds probable, and I would believe other apps like Hulu, Pluto TV, etc. would be available as viewing options unless exclusivity to Amazon products is required. It would be great to know if a vehicle will be trackable as another "device" to reach, and if advertising in this case isn't allowed, that would be a missed opportunity.
(Don't know what OTT/CTV is? Watch this video for a better understanding:
Moving Forward: Stay Engaged
As technology evolves, our way of reaching audiences does too. Did we think 20 years ago that our TV's would be considered "devices?" Now, our vehicles seem to be heading in that same direction. It's important for marketers to stay on top of these advancements, so we can be better informed and prepare for the opportunities ahead. Watch the automotive market closely, as other auto manufactures will surely take notice and look to make similar integrations with their own automobiles. Otherwise, I'm excited to see where new tech leads us in the automotive industry!
If you need help with understanding how to optimize for Voice Search or OTT
advertising, email Jim at [email protected] or contact us below:
---