---
---
Prove Your Expertise and Win New Customers
What Is Content Marketing?
---
Content as a general category has been a part of marketing from the beginning. The content of an ad has always meant the subject matter and what you are trying to communicate. However, in the digital era, the meaning of "content" has shifted and become more specific.
Referring to marketing assets as "content" began because of the social media influencer. Because they aren't necessarily "marketers" or, from the journalistic world, "writers/editors," they needed a term for what they were producing that made sense. Content ended up being the chosen word, and it stuck.
Today, just about every business wants to be part of the online conversation. To do so, they invest in content marketing, which has evolved as a discipline to help businesses be part of the content produced in digital spaces. It also absorbed some of the more writing and creative disciplines of marketing into a single area of focus. This evolution has helped businesses share consistent messages between digital and analog formats and, thereby, establish themselves as thought leaders.
Content marketing, then, includes the following components:
Copywriting - whether for ads, social media, website copy, or anything else.
Blogs - one of the oldest ways for businesses to establish their expertise is still one of the most effective.
Whitepapers and Reports - the true pinnacle of what we mean by thought leadership, these are valuable assets that function as lead generators.
Case Studies - content marketers often have skills similar to journalists, so they are adept at interviewing customers and writing up case studies.
Email Marketing - building an audience of your own is a valuable way to keep your customers coming back for more.
Video Scripting - because content marketers are great writers, they often help video teams script videos to tell a consistent story.
SEO - there is a content side to SEO, too. Content marketing includes writing in such a way as to fully satisfy the needs of search engine users.
All in all, content marketing is they way you prove your expertise with current or potential customers by offering them something of value (usually at no cost). It also includes producing the explanatory content your customers seek out on their own at each step of the buyer's journey.
---
What Makes Great Content?
If we're going to be creating content to promote a brand, we want to make sure it's GREAT, right? After all, this is your chance to impress your prospects and get them to trust you.
GREAT content--that gets the job done--is
Concise
Spelling/Grammar Error-Free
Written Directly to the Ideal Prospect
SEO-Optimized
Full of Character
On-Brand
Whoa! Easier said than done!
That's why we approach all of our content work through the lens of a Content Marketing Strategy.
Content Marketing Strategy
A content marketing strategy is a series of steps and a tailored approach to producing content across all media formats for a business, organization, or individual influencer.
It includes a complete plan for what is intended to be communicated to each audience on each step of the buyer's journey.
The content marketing strategy informs what tactics are chosen, how they are executed, and where they are distributed.
Writing a content marketing strategy can be a challenge. That's why Force 5's marketing guides are here to help you understand your ideal customer, their ideal content mix, and how to achieve your goals.
---
Our Approach to Content Marketing
We take a methodical approach to content creation at Force 5.
While every piece of content is unique, our process can be similar from client to client to ensure we deliver a consistently high-quality experience.
Take a look at the process below to discover how we guide you through content from brainstorming to posting.
---
So you want to send emails to get business? Sounds easy enough, but did you know there are two distinct types of email marketing you should consider?
---
The primary purpose of newsletters is to build an audience of potential and current customers. You share your knowledge with this group to stimulate repeat buyers and build brand loyalty.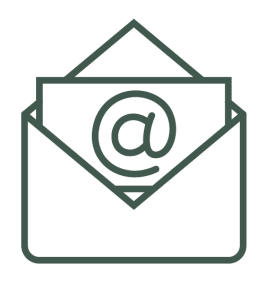 Also referred to as marketing automation campaigns, these sequences of emails are designed to lead buyers through a specific process and reach them over time. You could send related content to people who download a report or send bits of information about your onboarding process over time for better comprehension.
---
Force 5 can be your guide on both types of email marketing. Whether you need technical assistance to set up the perfect email template, need help crafting your newsletter messages, or want us to map out an automated customer journey for your business, we're ready to jump in there and get your customers engaged!
Search Engine Optimization (SEO) ... From a Content Perspective
---
If you've been browsing our site, you might have already seen Search Engine Optimization (SEO) featured in our digital marketing services area. That's because SEO has two sides: the technical and the content.
From a content perspective, SEO is all about writing excellent content that fully satisfies the "search intent" of a person who typed the targeted keyword into Google/Bing.
Let's consider an example.
I searched for the keyword "steps to buying a house" because I'm a first-time home buyer. What am I expecting to see on the page I'm served by the search engine? Here are a few factors I can think of:
A sequential listing of each step toward buying a house.
An introduction to the things I need to consider when buying a home.
One step further ...
These components are obvious, as they directly relate to the keyword. But a page that goes above and beyond to deliver even more than I'm expecting would also include:
An explanation of what a mortgage is.
A mortgage calculator.
A link to sites where I can search for properties.
A guide to choosing a great real estate agent.
And there could be much more! The point is we are satisfying the person searching for the term as completely as possible. Achieving this takes research, an understanding of the market, the ability to cross-reference related topics, and much more. It can be challenging, but the benefits of beating your competitors is tremendous with the sheer volume of traffic that comes from search engines.
Ready to see how your site stacks up? Run a free page audit against the keyword you want to rank for, and we'll give you a fast, free audit.
I'm not a great writer. Can I still do content marketing?
Yes! That's why we're here. Force 5's content writing team can listen to what you want to communicate, either in bullet points, stream of consciousness, or an actual spoken conversation, and turn it into content that shines.
What kinds of content projects can you do?
We can write or produce any type of content you can imagine, such as blogs, whitepapers, reports, interviews, case studies, website pages, video scripts, social media posts and profiles, and so much more.
Will your content fit my existing content?
Absolutely! if you have a content style guide, we can follow that. If you don't, we'll examine what you have, assess your unique voice/style, and produce content that fits. Or content that evolves your voice if you prefer!
What kinds of topics should my content be about?
Your content should match your unique value proposition. It should make sense with what you offer. It should prove why you are an expert in your field. The easiest way to think of it is to consider what topics you would want to read about if you were shopping for your business's product/service as a consumer?